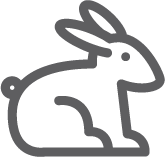 CONEJOS / RABBITS / LAPINS
Cod: 24550

Cod: 45105

Cod: 45100

Cod: 26105

Cod: 71650

Cod: 38365

Cod: 38370

Cod: 71645

Cod: 90900

Cod: 10310

Cod: 44500

Cod: 43600
In the Rodents section you can find all kinds of accessories for rabbits, hamsters and guinea pigs.
Depending on the profile of the recipient, we have a wide variety of houses, parks, feeders, waterers, toys and accessories, breeding cages, fattening cages, nests made of different materials, etc.
Without forgetting the more traditional Mediterranean market, we incorporate and implement new products that adapt to the latest trends.